House of Smiles – General, Cosmetic Dentistry and Orthodontics
Dentist, Killeen | Harker Heights TX
Welcome to our practice!
House of Smiles has been serving in the Killeen/Fort Hood and Belton area for over 25 years. We pride ourselves in providing comprehensive dental treatment for the whole Family!
Doctors Aditi Saxena, DDS, Christopher Glecos, DMD and Harneet Kaur, DMD, practice a full scope of General and Cosmetic Dentistry with expertise ranging from Orthodontics, Veneers, Dental Implants, Crowns and Bridges, Invisalign, Restorative Dentistry, Root Canal Treatment and Oral Surgery. Dr. Saxena, Dr. Glecos & Dr. Kaur are able to correct a wide variety of so-called permanent cosmetic dental problems, and can literally redesign your smile.
---
---
Our office is conveniently located
in the Rosewood Plaza on Rosewood Drive.
Call us today for an appointment!

Monday through Thursday:
8:00 AM–5:00 PM
READ OUR REVIEWS / WRITE A REVIEW
Voted BEST 4 Years In A Row!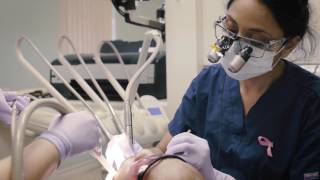 General, Cosmetic, Implant Dentistry and Orthodontics Killeen | Harker Heights
General & Cosmetic Dentistry can give you a smile you're happy to show off. Modern cosmetic dentistry techniques make it easier than ever for you to have a bright, even smile. Children are welcome!
Drs. Saxena, Glecos and Kaur can give you the smile you want using:
Orthodontics Killeen |  Harker Heights | Up to $500 Match or Zero Down
Orthodontics* is a dental specialty that focuses on the diagnosis and treatment of tooth misalignments and jaw irregularities (malocclusions) using braces, clear aligners and other appliances. Not just for aesthetic enhancement, orthodontics also serves to improve a patient's overall oral health for a lifetime, and can even help with speech impediments. A properly aligned bite makes it easier to eat, smile and speak!
House of Smiles offers orthodontic treatments and has Easy Payment Plans for the same. Call our Office in Killeen, TX at House of Smiles Phone Number 254-680-4450
* Dr. Aditi Saxena is not an Orthodontist but has taken extensive training for the specialty.
* Zero Down is subject to approval by Care Credit
---
Ready To Take Control Of Your Dental Care?
Contact us with any questions or to schedule an appointment!
---
Currently Offering Invisalign with $1750 off and FREE Custom Teeth Whitening Trays Killeen |  Harker Heights
For More detailed information about the procedure itself please refer to our Invisalign Page under Cosmetic Treatments.
Dental Implants – Easy Monthly Installments Killeen |  Harker Heights
Dental implants are designed to provide a foundation for replacement teeth that look, feel, and function like natural teeth. The person who has lost teeth regains the ability to eat virtually anything and can smile with confidence, knowing that teeth appear natural and that facial contours will be preserved. Dental implants can replace a single tooth, multiple teeth or all teeth. Dental implants are changing the way people live. For more information about dental implants or to schedule a consultation, call our office in Killeen, TX at House of Smiles Phone Number 254-680-4450.
We now have easy payment plans for Dental Implant treatment and all other cosmetic procedures. Please, inquire at office.
SNAP-ON-SMILE®
Snap-On-Smile is affordable, non invasive & completely reversible, cosmetic removable arch. This can easily & painlessly give you a beautiful smile. The Hollywood smile is now within your reach. No shots or drilling. It is Just 2 visits, get started now !!
We accept all Major Insurances, including Tricare. Military families and Children are welcome!
Easy monthly payment plans available for select procedures.
Please ask about Payment Plans.
We Accept Care Credit
Please ask about Care Credit and also visit the Care Credit website to find more information.